"...Sirs, what must I do to be saved?"
Acts 16:30
The most important question that you can ever ask yourself is the same question that the Philippian jailer asked Paul in Acts 16:30. How would you answer his question? Do you know for sure that when you die you will spend eternity with God? If you struggle with doubts in any way, please read the Scriptures below for a simple explanation of how you can have a settled confidence that you will spend eternity with God when you die.



We were created with purpose, dignity, and value...
Genesis 1:26 And God said, Let us make man in our image, after our likeness: and let them have dominion…
Genesis 2:7 And the LORD God formed man of the dust of the ground, and breathed into his nostrils the breath of life; and man became a living soul…
Romans 5:8 But God commendeth his love toward us…



But we have a devastating problem...
Romans 5:12 By one man sin entered into the world, and death by sin; and so death passed upon all men, for that all have sinned…
Ecclesiastes 7:20 There is not a just man upon earth, that doeth good, and sinneth not…
Psalm 58:3 The wicked are estranged from the womb: they go astray as soon as they be born, speaking lies…
Romans 3:23 For all have sinned, and come short of the glory of God…

Our sin separates us from God and we must one day face His justice...
Romans 6:23 The wages of sin is death….
Ephesians 2:2-3 We all had our conversation in times past in the lusts of our flesh, fulfilling the desires of the flesh and of the mind; and were by nature the children of wrath…
Romans 2:2-6 Thinkest thou this, O man, that judgest them which do such things, and doest the same, that thou shalt escape the judgment of God…who will render to every man according to his deeds…
Hebrews 9:27 It is appointed unto men once to die, but after this the judgment…



We are powerless to remove our guilt...
Romans 3:20-22 By the deeds of the law there shall no flesh be justified in his sight: for by the law is the knowledge of sin. But now the righteousness of God without the law is manifested…the righteousness of God which is by faith of Jesus Christ unto all and upon all them that believe…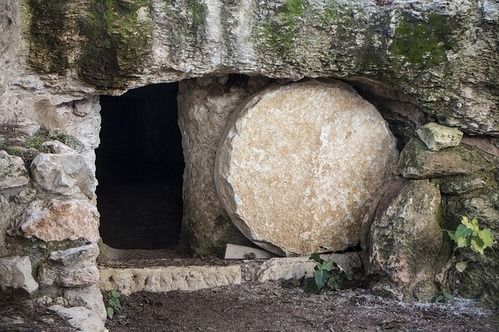 But God who is rich in mercy, in love did for us what we could not do for ourselves...
Romans 5:6-9 When we were yet without strength, in due time Christ died for the ungodly…God commendeth his love toward us, in that, while we were yet sinners, Christ died for us…being now justified by his blood, we shall be saved from wrath through him.
1 Corinthians 15:3-4 Christ died for our sins according to the scriptures…he was buried, and that he rose again the third day according to the scriptures:



We must turn to God in humility and trust in Christ's redemptive work to receive eternal life.
Acts 17:30 And the times of this ignorance God winked at; but now commandeth all men every where to repent…
Romans 10:9-11 If thou shalt confess with thy mouth the Lord Jesus, and shalt believe in thine heart that God hath raised him from the dead, thou shalt be saved. For with the heart man believeth unto righteousness…
John 3:36 He that believeth on the Son hath everlasting life: and he that believeth not the Son shall not see life; but the wrath of God abideth on him…